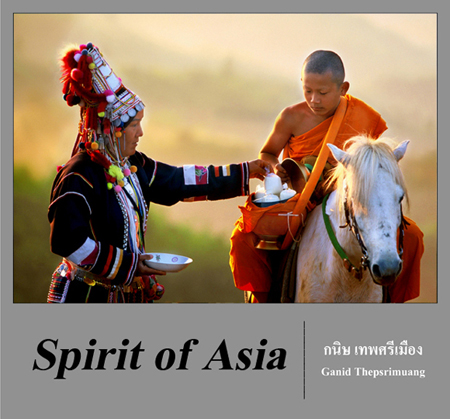 "Spirit of Asia" is a collection of my photographs taken through many countries of Asia. I have grouped the pictures into nine distinct themes to reveal a range of perspectives.
The book contains both film and digital photographs taken using a range of cameras. Description and technical details are provided below each picture both in Thai and English.
You will find outstanding photographs covers a diverse range of subjects and styles - portraits, landscapes, fireworks & lights, children, life & culture, animals, architechture etc.
"Spirit of Asia" is Published by Ganid Thepsrimuang, November 2007
Format : Hardback (pp : 96)
Dimension : 223mm X 210mm
Shipping weight : 0.59 kg
Available at Asia Books, Bookazine and Kinokuniya, Thailand.
For a signed copy, send me a request via e-mail.